Main / Catalog / Telescopes / TAL telescopes: TAL-1
The TAL-1 4.3-inch f/7.3 Newtonian reflector is supplanting small telescopes of lesser quality imported from Asia. A classic design, it features optics of premium quality, a seamless aluminum tube with fully adjustable precision mirror cells and a 4-vane spider, a butter smooth helical focuser with an elegant clamping ring that holds eyepieces firmly without marring their barrels, a 6x30mm finderscope with 6-point thumbscrew alignment, two multi-coated 1.25" format eyepieces of 15mm and 25mm focal lengths, a 3x Barlow lens, solar, lunar, and color filters, a sun projection screen, and piggyback camera adaptor. Complete -- nothing else to buy!
The optical tube assembly attaches to the sturdy equatorial mounting with two felt-lined aluminum rings equipped with quick-release clamps and is fully rotatable to provide maximum viewing comfort. The equatorial mounting features precision ball bearings, engraved setting circles, and slow-motion controls on both axes, as well as an engraved latitude angle scale and mounting plate for piggy-back astrophotography. The TAL-1M model also includes a fully-enclosed motor drive with a worm-and-wheel gear set for effortless tracking of celestial objects under observation. At the customer's request, an extremely rigid metal pedestal or hardwood tripod will be supplied.
The superior quality of the construction and the attention to detail are immediately apparent. For example, all fasteners are captive so they won't get lost in the dark. The TAL-1 is the ideal telescope for the beginner or intermediate amateur astronomer at an amazingly affordable price! Shipped in a sturdy cardboard and styrofoam package.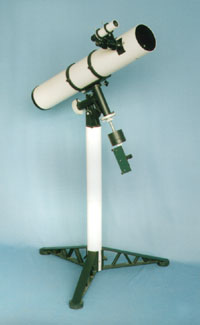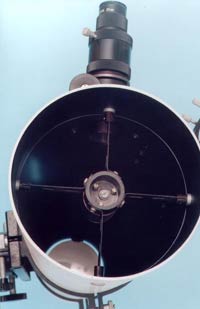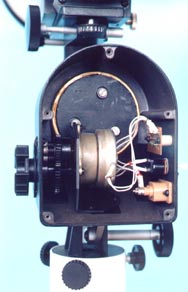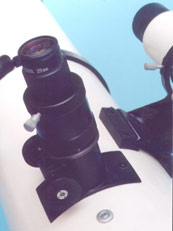 б═
Standard Specification

Aperture, mm
110
>Focal length, mm
805
Focal ratio
1:7.3
Resolving power
1.3
Limiting visual magnitude
12m
Magnification, min
32x
Magnification, max
169x
Optical scheme
Newtonian
Angular visual field, max
1°36'
Angular visual field, min
15'
Minimum observing distance, m
65
Range of slow-motion control on the axes within
±4°
Latitude range of mounting
0...60°
Magnification of the finderscope
6x
Angular field of finderscope
8°
>Voltage of the supplying mains, V
220 (110) ±10%
Current frequency, Hz
50 (60)
Output voltage of the supply unit, V
12±10%
Dimensions, mm
885x800x1650
Weight of the telescope, kg
20