Specifications
Magnification: 4.5x 
Digital zoom: 1.5x 
Eye relief: 67 mm 
Laser IR-illuminator: 915 nm (invisible) 
Operating temperature: -25 ... + 50 °С 
Range of detection: 450 m 
Upload alternative reticles
What's in the box
Digital NV riflescope Digisight N770 | Wireless remote control | Carrying case | Mount (mount may not be included for certain orders) | User manual | Lens cloth | Warranty card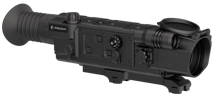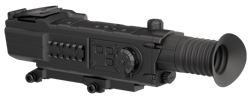 Built-In Invisible IR Illuminator
The Digisight N770/ A/ U/ UA riflescopes are outfitted with built-in IR Laser Illuminator featuring three-step power adjustment. Complying with Class 1 laser safety, the laser IR Illuminator operates in the covert IR range (915 nm), invisible to the unaided human eye. 
External Power Supply
Operating time can be significantly extended by using high-capacity external power supply units attached to the Digisight via an external power jack. During continued use in freezing weather, the external power supply units can be stored under the clothes.
Wide Operating Temperature Range
Ability to operate in normal mode at sub-zero temperatures is due to the use of a frost-resistant OLED display featuring fast response and provides crisp image when observing dynamic object.
Image Set-Up Options
Fast set-up options – Contrast and Sumlight™ allow for rapid contrast gain and activation of CCD sensitivity enhancement. Also, there are modes for fine brightness and contrast tuning.
Reticle
The reticle (click value 13mm @ 100 m) is digitally inputted in the display and is permanently located in the image plane. The coordinate system (horizontal and vertical directions) helps remember zero reticle position for various distances or cartridges and move the reticle exactly to the required area. The riflescope uses by default a T-shaped reticle with illuminated dot in the centre, colour of which can be switched from red to green.
Long Eye Relief
The Digisight riflescopes feature a 67 mm eye relief – one of the best parameters in its class.
Rifle Mount
The mounting holes in the base of the riflescope enable the mount to be installed in one of multiple positions. This choice (depending on the rifle type, anthropometric data of a shooter, etc.) helps the user to ensure the most suitable position on a riflescope.
Convenient Display of Service Information
Information about operating status is displayed on a dedicated data panel; it is located in the lower portion of the screen and does not hinder observation.
Wireless Remote Control
The wireless remote control allows basic operations to be fulfilled without resorting to standard controls.
Video Out
The Digisight riflescopes are equipped with a Video Out jack enabling real time video recording with the use of external recording equipment.
Electronic components

| | |
| --- | --- |
| Sensor type | CCD |
| Camera resolution, pixels | 500x582 |
| Min/max working illuminance, lux (f1.2, signal-to-noise ratio 20dB), lux | 0.0001...30000 |
| Display type | OLED |
| Display Resolution, pix. | VGA 640x480 |
| Video OUT availability | analog |
Optical characteristics

| | |
| --- | --- |
| Magnification, x | 4.5 (basic) / 6.75 (zoom) |
| Lens diameter, mm | 50 |
| Relative aperture, D/f' | 1:1 |
| Field of View,°, horizontal | 5 (on 4.5x) / 3.25 (on 6.8x) |
| Resolution, lines per mm | ≥ 55 |
| Minimum focusing distance, m | 5.5 |
| Eye Relief, mm | 67 |
| Exit Pupil, mm | 6 |
| Diopter adjustment, dptr. | - 5 … + 3 |
IR-illuminator

| | |
| --- | --- |
| Emitter | Laser |
IR-illuminator

| | |
| --- | --- |
| IR Wavelength, nm | 915 |
Range of Detection, m

| | |
| --- | --- |
| Range of detection, m (object 1.7m high, illumination level 0.05 lux ("1/4 moon") | 450 |
Power Supply

| | |
| --- | --- |
| Power Supply, V | 3.7÷6 |
| Battery type | 4xAA |
| Battery Life (w/out IR), hour | 4 |
| Battery Life (with IR), hour | 3 … 3.5 |
| External Power Supply | DC 9 ÷ 15V / 3W |
Reticle

| | |
| --- | --- |
| Windage & Elevation, 1 click (H/V), mm@100m | 13 / 13 |
| Click range H/V, mm@100m | 1040 / 1300 |
| Reticle color | T-shaped, with illuminated red/green dot |
Physical & operational characteristics

| | |
| --- | --- |
| Type of mount for attachment of additional accessories | Weaver |
| Operating Temperature,°С | - 25 … + 50 |
| Remote control | Wireless |
| Shock resistance on rifled weapon, J | 6000 |
| Dimensions, mm | 340х95х94 |
| Weight (without batteries), kg | 1 |