Specifications
Generation: 2+
Тybe type: EPM66G2-U-WPT 
Glow of tube's display: white
Magnification: 4х
Field of view: 9°
Reticle: a crosshair (red, 3 shapes, with brightness control) 
Nitrogen purged: yes 
VIDEOGUIDE
What's in the box
Riflescope Phantom 4x60 BW | Attachable IR-illuminator | Carrying case| Remote control | User manual | Warranty card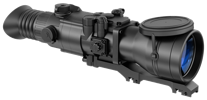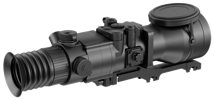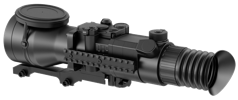 Three shape reticle
Successive push of a button selects one of the three available reticle shapes: dot, horizontal lines and lower vertical line (without central dot), and combination of these two variants. The reticle colour is red, it features brightness control. Blinking reticle indicates that the battery should be replaced soon.  
Internal focusing lens
The objective lens uses internal image focusing, with the focus knob locked at 100 m. 
Fast start-up option
This riflescope operates only when the fast start-up button is kept pressed. It's very convenient when you do not conduct permanent observation and need only a quick assessment of the situation.
Nitrogen purged optical path
The Phantom is suitable for operation in heavy precipitation conditions. The nitrogen purged design prevents the lenses and inner surfaces from condensation.
Attachable IR Illuminator
The Phantom has an option of a powerful removable IR illuminator offering a variable beam from spot to flood. 
Enhanced contrast
The Phantom BW models feature black and white glow of the tube's display which contributes to enhanced image contrast.
Protective lens cap
Protective lens cap is permanently attached to the body to prevent it being lost and can be slid back down the body when observing or shooting.
Weaver 7/8" rail
The Weaver 7/8" rail on the left side of the body designed for mounting additional accessories.
Power supply
The riflescope can be powered both with a single AA (1.5V) or CR123A (3V) battery. The voltage stabilisation system eliminates reticle shift and drop in reticle brightness; guarantees proper operation of the tube and IR-illuminator, even with an almost discharged battery. The batteries are positioned vertically, which enhances reliability of energy supply during recoil.
Remote control
The attachable remote control duplicates the "ON/OFF" function and IR Illuminator. The third button switches on the riflescope and IR Illuminator instantly.  
Mounts
The following mounts are available: Weaver, Weaver-Long, Weaver-Auto, Side Mount, Los, Euro Prism, MAK adapter.
Electrooptical converter

| | |
| --- | --- |
| Generation | 2+ |
| Tube Type | EPM66G-2-U-WPT |
Optical characteristics

| | |
| --- | --- |
| Magnification, x | 4 |
| Lens diameter, mm | 60 |
| Field of View,° | 9 |
| Minimum focusing distance, m | 8 |
| Eye Relief, mm | 50 |
| Diopter adjustment, dptr. | ±3.5 |
| Resolution, lines per mm | 45 |
Built-in IR-illuminator

| | |
| --- | --- |
| Equivalent IR Power, mW | 100 |
| IR Wavelength, nm | 805 |
Range of observation

| | |
| --- | --- |
| Range of detection, m (object 1,7m high, illumination level 0.05 lux ("1/4 moon") | 700 |
Power Supply

| | |
| --- | --- |
| Power Supply, V | 1.5 / 3 |
Power Supply

| | |
| --- | --- |
| Battery type | 1xAA / 1xCR123 |
| Battery Life (with IR), hour | 5/8 |
| Battery Life (w/out IR), hour | 15/24 |
Using on weapon

| | |
| --- | --- |
| Reticle Type | 3-pos., red-on-black&white |
| Windage & Elevation, 1 click, mm / 100m | 13.5 |
| Shock-proofness, E0, joules (when used with rifled gun) | 6000 |
Physical & operational characteristics

| | |
| --- | --- |
| Operating Temperature,°С | - 30 … + 40 |
| Level of Protection (acc. to IEC 60529) | IPX6 |
| Nitrogen Purged, yes/no | yes |
| Remote control | yes |
| Dimensions, mm | 320х95х103 |
| Weight, kg | ≈ 1 |