Main / Catalog / Night Vision Monoculars / Night Vision Monocular "MNV1/1X" with 1st Gen. II Tube
Night Vision Monocular MNV1/1X is an optico-electronic device designed for visual observation in night time or dark conditions
When night falls, you never know what the cover of darkness may be kidding & with the MNV1/1x Night Vision Monocular you can see in the dark and stay hidden!
Using the most advanced infrared technology in its category and paired with a high resolution intensifier, this monocular transforms barely navigable low light and durable, yet lightweight, rubber armor body protects the unit and give the user a comfortable gripping surface, perfect for extensive use.
With long range viewing capabilities and a lengthy battery life, this easy to use MNV1/1x Night Vision Monocular is perfect for a wide range of recreational and professional uses.
Some of the typical activities where MNV1/1X will be useful:
• Law enforcement, security, safeguard, military and police patrolling
• Search and rescue operations, emergency operations
• Wildlife observation, birds and animals exploring in night
• Hunting, fishing, hiking, driving cars, vehicles and boats in night
• Photography and camera recording in night
Switching mechanism and the cover of battery compartment are comfortable to use even operating in gloves and in total darkness.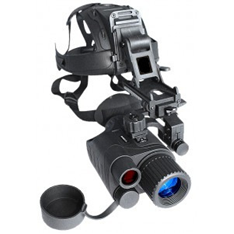 Features:
- 1st Gen Image Intensifier tube
- High magnification
- Long range viewing
- Fully multi-coated optics
- Superior resolution
- Durable rubber armor
- Built-in infrared illuminator
- Reliable and easy to use
- One year warranty, lifetime maintenance
- Weapon mount allows night shooting
Standard Delivery Kit
1. night vision device body;
2. 1X interchangeable lens ;
3. head gear mount;
4. weapon mount
5. neck carrying cord;
6. carrying bag;
7. lenses cleaning napkins;
8. user's manual;
Technical specifications
Parameters description

Values

Magnification

1X

Field of view

30°

Focusing rage

1.0m to ∞

Diopter adjustment

+4 - -4

Recognizing distance of a men, max

100m

II Tube resolution

42lp/mm

IR illuminator power

25mW

IR illuminator wavelength

850nm

Eye relief

15mm

Exit pupil diameter

6mm

Power voltage

3V

Power source

Cr123 (AA) battery

Battery life at usual mode of o

eration, min

60 hours

Battery life at IR illumination mode, min

20 hours

Overall dimensions

144x77x61mm

Weight of monocular, max

320 grams

Weight of carrying bag

250 grams

Mean time between failure of II Tube

10000 hours
Environmental conditions 
| | |
| --- | --- |
| Operating temperature | - 30°C to +45°C |
| Shock-proof | 5g |
| Environmental standard | IPX4 |