Main / Catalog / Thermal Viewing Devices / Super surveillance System "Observer – 30"
1. Overview 
Thermal : Ultra Long Range Cooled Thermal Camera "Observer -30" is developed on the basis of the latest cooled IR technology. Featuring high NETD, advanced digital circuit and image processing algorithm, the camera provides users crisp thermal images. The camera comes in 20X continuous zoom. While ensuring wide coverage, it also meets ultra long range surveillance demand with 30km detection range. The camera enclosure is IP66 rated, which is designed to withstand the harshest weather conditions.
Optical: With super megapixel telephoto lens, long-distance HD optical camera is designed for day-time monitoring. The max detection distance for human/car/object is 3km in the day.
Built-in technical grade embedded control electronic system, the camera operation like zooming, focusing, video switch, rotation is stable and accurate. One integral aluminum alloy housing and weatherproof IP66 make sure it works well outdoor.
LRF: Max.22000 m laser illumination and target distance measuring with results displayed on video image.
2. Features
20mk NETD ensures premium thermal image;

Unique AS continuous optical zoom and 3CAM high precision mechanical engineering;

Superb in-homogeneous correction ensures crisp thermal image;

SDE image enhancement;

Aluminum alloy enclosure, IP 66 rated;
3. FPA thermal camera demo pictures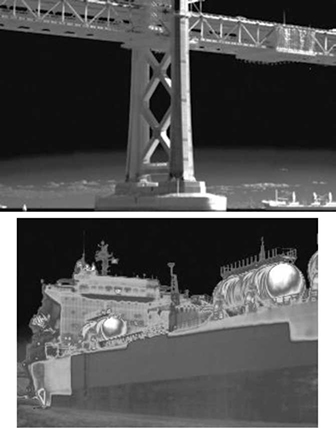 4. Application
Border and costal defense, harbor, oil field, river lane, airport, safe city.
Cooled thermal camera module

Detection

Vehicle:30000m Human:11000m

Detector material

HgCdTe FPA detector

Identification

Vehicle:7700m Human:3000m

Detector

FPA MCT detector

Cooling

Stirling cryocooler

Resolution

640x512

Pixel size

15µm Х15µm

Spectral range

3.7-4.8 µm, NWIR

NETD

20mK(@25°C F4.0)

Lens

15-300mm, F4.0

FOV

35°x28° -1.8°x1.46°

Lens control

Motorized zoom, auto/manual focus
Image processing

1. Starting time: less than 7mins (25oC);

2. Image enhancement: SDE;

3. Color: White hot/Black hot;

4. Brightness and contrast: AGC, adjustable;

5. Digital zoom: 2X, 4X

6. Cross: display

7. Correction: Shutter/Background

Interface

1. Control: RS485(PELCO D, baud rate:2400bps/s)

2. Menu: OSD

3. Video: PAL

4. Power supply: DC24V

5. Connector: waterproof aviation connector

Environment al indicators

1. Enclosure: aluminum alloy, sealed;

2. Working temp:-40°-55°

3. Storage temp: -40°-70°

4. Ingress protection: IP67

5. Power consumption: 15W(normal), 45W(peak)
Model

Optical camera

CCD

1/2.8'' 0.01lux low illumination color to B/W CCD, 2 megapixel, 1080P, video format H.264

Lens

8~320mm, 40x continuous zoom, megapixel HD, motorized zoom, auto iris

Detection

2~3km

Mode

B/W color mode

Housing

One integral aluminum alloy housing, waterproof, weatherproof IP66

PT

Pan: 360o continuously, Tilt: +45°~-75°, display angle and transmission back

function.

Rotation speed

Pan: 0.01~60°/S, tilt: 0.01~30°/S

Interface

RJ45*1 (video +control), AC24V*1 (Optional RS485 with angle and transmission

back function)

Power supply

AC24V±10%, 50Hz, 5A

Ingress protection

IP66

Operational temp.

-25°C~+55°C

Laser Range Finder

Laser

wavelength

1570nm

Illumination

Lamp-pumped

Maxdistance

22000m

Accuracy

±3m

frequency

1hz

Continuous working time

5 minutes

Accuracy rate

≥95%

dimension

220x90x66.5mm

weight

1.5kg

Power supply

DC24-30V

Peak currency

≤2A

Interface

RS422

Working temp.

-30~+55°C

Storage temp.

-40~70°C

Ingress protection

IP65

Anti-shock

10g