Specifications
Magnification: 2.1x / 4.2x 
Refresh rate: 30 Hz 
Range of detection: 950 m 
Operating temperature: -25 ... +50 °С 
Calibration modes: silent (manual), 
automatic, semiautomatic 


What's in the box
Thermal Imaging Scope Quantum HD38S | Carrying case | User manual | Video cable | Hand strap | Automotive cigarette lighter adapter | Spare battery container | Cleaning cloth | Warranty card
Calibration
The Quantum suggests three calibration modes: silent manual mode ("M"), automatic ("A") and semiautomatic ("H"). The "A" mode implies calibration without user participation (process initiation (actuation of the shutter) takes place automatically). In the "H" mode the user decides on his own if calibration is required based on the image quality. Button "Cal" is pressed in this mode. Manual calibration ("M") is carried out by pressing the button when the lens cap is closed. The "M" mode is recommended for hunting due to silent operation.    
Operating modes
The Quantum S suggests three operating modes, each designed to deliver best possible image in specific viewing conditions. The modes are as follows: "City" (enhanced contrast), "Forest" (low contrast) and "Identification" (improved rendering of hot objects' details).     
Quick start-up time
The Quantum imaging scopes feature short start-up time (5 - 7 seconds) from the push of a button to full operational status. This is one of the best results in its class.     
High refresh rate
The 30 Hz refresh rate provides a smooth and consistent image of moving objects. 
Long detection range
High resolution (384x288) microbolometer ensures detailed image and long detection range.   
Changeable magnification
The optical magnification is 2.1x. The unit also has additionally 2x digital zoom.   
Body
The body of fiberglass reinforced plastic is able to effectively withstand impact, moisture and dust which allows the units to be used in extreme conditions. The rubber armouring ensures secure grip of the unit. 
Wide range of operating temperatures
Quantum imaging scopes are effective for the use in low temperatures (-25°C) thanks to the frost-resistant OLED display employed in the unit (image remains the same as when viewing at positive environment temperature). 
Brightness and contrast control
The control wheel located next to the lens allows the user to setup brightness and contrast most appropriate for specific situation.   
Self-contained power supply
The Quantum is powered with four AA size (rechargeable) batteries. The batteries are stored in a container which is then placed in a battery compartment of the unit. 
Video output
All Quantum models are equipped with an analog video output to enable connection of external recording equipment or transmitting image to the display. 
External power supply
Operation time of the unit can be significantly increased thanks to the use of external power supplies (for example, Pulsar EPS3/EPS5) that can be connected with a special jack. When used in frosty weather, the power supply can be stored under the clothes.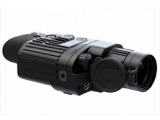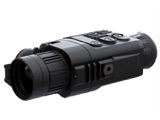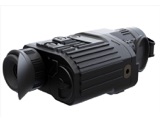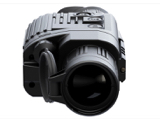 Specifications
Electronic components

| | |
| --- | --- |
| Frame Rate, Hz | 30 |
| Microbolometer resolution, pixels | 384x288 |
| Spectral Sencitivity, µm | 7.7 … 13.2 |
| Display type | OLED |
| Display Resolution, pix. | 640x480 |
Optical characteristics

| | |
| --- | --- |
| Magnification, х | 2.1 |
| Digital zoom, x | 2 |
| Objective Lens | F38/1.2 |
| Field of View,°, horizontal * vertical | 14.4x10.8 |
| Diopter adjustment, dptr. | ± 5 |
Range of Detection, m

| | |
| --- | --- |
| Range of detection, m (object (high*width = 1,7*0,5m) | 950 |
Power Supply

| | |
| --- | --- |
| Power Supply, V | 4 ÷ 6 |
| Battery type | 4xAA |
| Battery Life, hour | 5.5 |
| External Power Supply | DC 8.4 ÷ 15 |
Physical & operational characteristics

| | |
| --- | --- |
| Operating Temperature,°С | - 25 … +50 |
| Level of Protection (acc. to IEC 60529) | IPX4 |
| Dimensions, mm | 200x86x59 |
| Weight (without batteries), kg | 0.35 |