Main / Catalog / Night Vision Rifle Scopes / Forward DFA75 Digita Night vision Flip-on Sight
Specifications
Easy conversion of a day sight into a night riflescope 
Retaining the zeroing middle point when used with a riflescope 
High shock resistance on higher calibers 
Readily removable 
"Invisible" laser IR illuminator 
Operating temperatures: -25 ... +50 °C 
YOUTUBE
What's in the box
Digital NV attachment DFA75 | Protective cover | 915 nm attachable laser IR Illuminator | Spare battery container | Wireless remote control | Plastic case or carrying case (varies by shipment) | Video cable | User manual | Lens cloth | Warranty card 
Easy mounting
Adapters with a set of reducing rings of various diameters are used to mount the Forward DFA on the housing of a day sight's lens. The size of the rings is determined by the outer diameter of the housing of the lens of your day sight.    
Retaining the point of impact
Due to the calibrated power of 1x, the Forward DFA retains the point of impact when mounted on a day sight. This prevents displacement of reticle image relative to the point of aiming when mounting the attachment in front of the riflescope, as well as when inclining the attachment relative its optical axis.  
Advantages of design
When shooting with an attachment coupled with an optical sight, some important operational characteristics of day optics are preserved, namely: longer eye relief (compared to conventional NV riflescopes), customary reticle, variable magnification.  
Wide operating temperature range
Ability to operate in normal mode at sub-zero temperatures is due to the use of a frost-resistant OLED display featuring fast response and provides crisp image when observing dynamic object.
Variable magnification
Most of NV riflescopes have a fixed magnification not exceeding 6x. Coupled with a day sight, the attachment provides a tool for night shooting, ensuring variable magnification, as well as highest possible magnification.  
Invisible laser IR illuminator
The Forward is outfitted with built-in IR Laser Illuminator featuring three-step power adjustment. Complying with Class 1 laser safety, the laser IR Illuminator operates in the covert IR range (915 nm), invisible to the unaided human eye.
User friendly interface
Running status of unit's operation is displayed in the form of alphabetic and numeral characters and color icons. Graphics are permanently visible on a dedicated panel at the bottom of the display without overlapping the image observed.
Wireless remote control
The wireless remote control allows you to turn/off the attachment, the built-in IR Illuminator and enhanced sensitivity function (SumLight™) without using the main controls.
External power supply
Operating time can be significantly extended by using high-capacity external power supply units attached to the Digisight via an external power jack. During continued use in freezing weather, the external power supply units can be stored under the clothes.
Video Out
The Forward is equipped with a Video Out jack enabling real time video recording with the use of external recording equipment.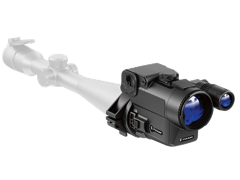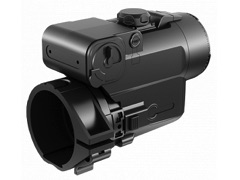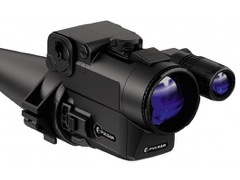 Specifications
Sensitivity of device

| | |
| --- | --- |
| Spectral sensitivity of device at a wavelength of 780 nm, mW, not more than | 0.00003 (3x10^-5) |
| Spectral sensitivity of device at a wavelength of 915 nm, mW, not more than | 0.00015 (1.5x10^-4) |
Electronic components

| | |
| --- | --- |
| Camera resolution, pixels | 500x582 |
| Display type | OLED |
| Display Resolution, pix. | VGA 640x480 |
| Video OUT availability | analog |
Optical characteristics

| | |
| --- | --- |
| Magnification, x | 1 (of the digital module) |
| Lens focus, mm | 50 |
| Relative aperture, D/f' | 1:1 |
| Field of View,°, horizontal | 5 |
| Resolution, lines per mm | ≥ 50 |
| Minimum focusing distance, m | 5 |
IR-illuminator

| | |
| --- | --- |
| Radiation source (diode type) | Laser |
| IR Wavelength, nm | 915 |
IR-illuminator

| | |
| --- | --- |
| Power of IR Illuminator, mW | 35 ... 50 |
| IR Illuminator's beam divergence angle, degree | 5 |
Range of observation, m

| | |
| --- | --- |
| Range of recognition, m | 270 |
Power Supply

| | |
| --- | --- |
| Power Supply, V | 3.7÷6 |
| Battery type | 4xAA |
| External Power Supply | DC 9 ÷ 15V / 3W |
Physical & operational characteristics

| | |
| --- | --- |
| Outer diameter of the lens housing of daylight scopes/riflescopes (possibility of using with a daylight optical scopes), mm | 47, 48, 49, 50, 55, 56, 57, 58, 60, 62, 65 |
| Operating Temperature,°С | - 25 … + 50 |
| Remote control | Wireless |
| Shock resistance on rifled weapon, J | 6000 |
| Dimensions, mm | 155x82x117 |
| Weight (without batteries), kg | 0.56 |
| 10x32 Pulsar Monocular included | no |