Main / Catalog / Thermal Rifle Scopes / FORTUNA General One 3L Imaging Scope
The thermal imaging scope is developed to be installed on a weapon for shooting both in the darkness (at night) and in the daytime in normal or severe weather events, such as the mist, light rain, snow, fog and smoke. The scope detects passively the thermal radiation of objects and landscapes, is ash resistant and does not need additional source of light. Although the device limits the visibility through glass, water, heavy rain or snow. The scope can be used as a portable thermal viewer (monocular).
The thermal imaging scope is designed with the shutterless calibration technology enabling quick start and continuous image without stops and delays. The specially developed control electronics of the device works without complicated menu. Ballistic corrections (10 zeroing proles) enable sighting in the weapon against dierent distances or for dierent types of ammunition. The scope can display the readings of the connected laser rangender for better target detection.
The scope is reliable, compact and user-friendly. All the main functions are easily and ergonomically controlled. Each scope has passed the impact resistance test.
Features:
►observing and aiming at any time of the day and in poor weather conditions
► 384x288/640x480 core, 17 μm, 50/25 Hz
► maximal detecting distance – from 1100 to 2400 meters (depending on the model)
► high-aperture (F/1,0), high-quality germanium lens with internal focusing
► light waterproof enclosure of aluminium alloy with rubber grips
► impact-resistant design, standing against the recoil of large-calibre weapon
► colour high-resolution OLED display
► electronic calibration
►user-friendly digital menu
► «white - hot», «black - hot» modes; colour palettes
► up to 10 zeroing proles to be saved
► up to four image settings proles to be saved
► digital zoom with the reticle in the centre of the view eld: 2x, 4x, 8x (depending on the model)
► PAL video output
► possible connection to a laser rangender with the measured distance displayed on the scope screen
► possible connection to external power supply of high capacity and video-recorder to save the image on the SD card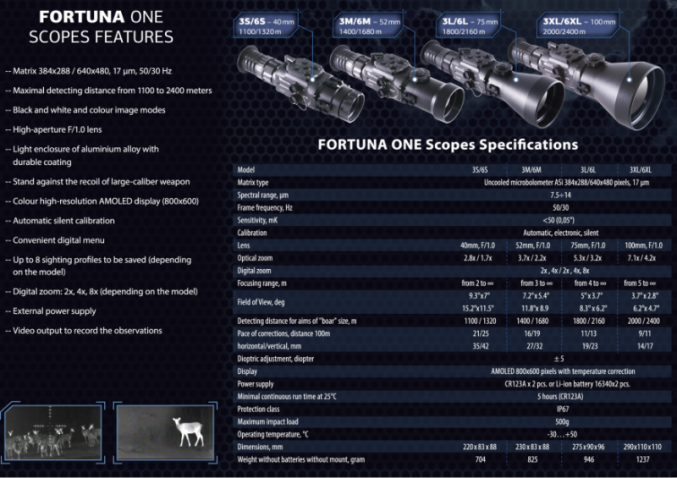 Specification:
---
Model

---

 

3L

---

 

Thermal imaging core

---

 

384х288, 17 µm

---

 

Spectral range, µm

---

 

7,5…14

---

 

Frequency, Hz

---

 

50

---

 

Sensitivity, mK

---

 

<50

---

 

Calibration

---

 

lectronic, silent

---

 

Lens, F/1.0

---

 

72mm

---

 

Optical zoom

---

 

5.3

---

 

Field of View, deg

---

 

5.0x3.7

---

 

Lens focusing, m

---

 

from 10 to ∞

---

 

Pace of corrections, distance 100m, cm

---

 

1.1

---

 

Eye relief, mm

---

 

52

---

 

Dioptric adjustment

---

 

- 5....+5

---

 

Display

---

 

AMOLED 800х600

---

 

 

Power supply

---

 

up to 8.5 V (CR123A x 2 pcs.

or RCR123A x 2pcs.)

---

 

Minimal continuous run time at 25°

---

 

5 hours

---

 

Protection class

---

 

IP67

---

 

Maximum impact load

---

 

500g

---

 

Operating temperature range, °C

---

 

-30…+50

---

 

Dimensions, mm

---

 

100х100х275

---

 

Weight with batteries (CR123A x 2 pcs),g

---

 

1000

---