Main / Catalog / Night Vision Goggles / MONOCULAR SERIES GROUND FORCE OMNI II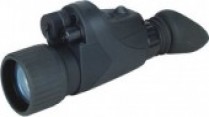 PRODUCTION OVERVIEW
The Gen2+ Ground Force features Gen 2+ Image intensifier and fully multi-coated optics to increase light transmission. There is a powerful illuminator that is Incorporated into the Gen2+ Ground Force's rugged design enabling clear viewing when ambient light levels are low. An extra IR flashlight or Laser pointer can be attached to the integrated weaver rail transform-ing it into precision viewing device.
The Gen2+ Ground Force with automatic image intensifier tube automatic brightness protection when exposed to an intense-light source for longer than i second, this protects the images inten-sifier tube from damaging.
Additionally, it is 20% more energy efficient than the competition resulting in a battery life of over 50 hours,The ergonomically designed Gen 2+ Ground Force is the cost effective, reasonable alternative to the majority of pricey NV Gen 2+ monocularavailable.
FEATURES:
Weatherproof

Gen 2+ technology

Low power consumption

High power magnification

Equiped with head mount and helmet mounted

lntegrated(25mw) IR illuminator

Long-range distance observation

Equipped with various magnification lens

Comfortable for prolonged observation

Automatic brightness control

Protected against excess light exposure
SPECIFICATIONS

---

Model

---

GROUND FORCE

---

Magnification, x

---

5

---

Field of view, deg

---

12,5

---

Lens system

---

81 mmF/1.6

---

Focus range, m/in

---

1.5/2" to infinity

---

Eye relief distance, mm

---

15

---

Diopter setting, D

---

+4…-4

---

Overall dimensions, mm/in

---

182x100x65/ 7.2" x 3.94"x 2.56"

---

Weight w/out headgear, g/oz

---

680 / 24

---

Power supply

---

1xCR123 battery,3v

---

Estimated battery life w/out IR, 73°F,

hour

---

up to 70

---

GEN III / GEN II IMAGE INTENSIFIER TUBES

---

Classification

---

OMNI II

---

Photocathode type

---

18mm S-25

---

Photocathode sensitivity, typical, pA/lm

---

>550

---

Resolution, typical, Ip/mm

---

48-58/57-64/60-72

---

Luminous gain, typical, fl/fcd

---

19000-25000

---

Signal-to-noise ratio, typical

---

20:1 or better

---

FOM, typical

---

>1150

---

Tube reliability standard, hour

---

10000

---

Keep time, typical, year

---

10

---

Warranty, year

---

1

---

EFFECTIVE DISTANCE

---

Detection range, approx.,

m/yard -quarter moon -cloud cover

---

up to 350/385

up to 300/330

---

Recognition range, approx.,

m/yard -quarter moon -cloud cover

---

up to 320/350

up to 280/305

---

5mW IR illuminator, approx., m/yard

---

up to 30/33

---

ENVIRONMENTAL DATA

---

Operating temperature, °C/°F

---

-40° to+122°

---

Storage temperature, °C/°F

---

-32° to+122°

---

Immersion, hour

---

2 meter for 1.0 (Optional)

---

Humidity, %

---

up to 98%

---