Main / Catalog / Night Vision Goggles / MONOCULAR MNV3/6x Scope (PVS-14 analogue)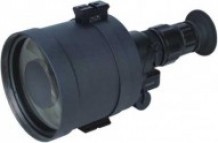 The devices with One-button switch, a small hand wheel set focus, simple operation, light weight, easy to operate. Large diameter,viewing long range distance,also internal reticle with range finder large luminous flux, clear imaging and full, and can view a more clear imaging when you are in very low light. Can also be mounted double handle, and be installed on a desktop tripod.
FEATURES
Light weight &-Hand-held type

Easy to operate Internal reticle with range finder Automatic brightness control.

Internal "low battery" and "IR-on" indicators. ф Protected against excess light exposure.

Integrated (5MW IR illuminator. Waterproof, corrosion and dust resistant.

May be equipped with a wide variety of optional accessories including 3x or 5x or 6x or 8x or 16x magnifier lens viewing long range distance.
SPECIFICATIONS

---

Model

---

MNV3/6x Scope

Magnification, x

---

6x

---

Field of view, deg

---

9

---

Focus range, m/in

---

15 to infinity

---

Eye relief distance, mm

---

15

---

Diopter setting, D

---

+5…-5

---

Overall dimensions, mm/in

---

80*80*200mm 203'175*175mm

---

Weight w/out headgear, g/oz

---

175mm

1900/67

---

Power supply

---

1 CR123 Batteries

---

Estimated battery life w/out IR, 73°F,

hour

---

AA-up to 40, CR123-up to 80

---

GEN III / GEN II IMAGE INTENSIFIER TUBES

---

Classification

---

OMNI III, IV

---

Photocathode type

---

18mm GaAs

---

Photocathode sensitivity, typical, pA/lm

---

>1800

---

Resolution, typical, Ip/mm

---

63-72

---

Luminous gain, typical, fl/fcd

---

45000-65000

---

Signal-to-noise ratio, typical

---

23:1 or better

---

FOM, typical

---

>1500

---

Tube reliability standard, hour

---

12000

---

Keep time, typical, year

---

15

---

Warranty, year

---

2

---

EFFECTIVE DISTANCE

---

Detection range, approx.,

m/yard -quarter moon -cloud cover

---

upto 1200/1312

up to 350/385

---

Recognition range, approx.,

m/yard -quarter moon -cloud cover

---

up to 800/874

up to 600/656

---

5mW IR illuminator, approx., m/yard

---

up to 30/12

---

ENVIRONMENTAL DATA

---

Operating temperature, °C/°F

---

-40° to+507

---

Storage temperature, °C/°F

---

0° to+5073

---

Immersion, hour

---

1 meter for 0.5 (Optional)

---

Humidity, %

---

up to 98%

---