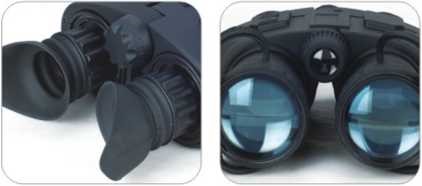 PRODUCT OVERVIEW
Night vision Binocular Night vision-multi-coated glass and exclusive-cybernetic innovation.
Night Vision Binocular Night Scout comes with high-resolution Gen 3+ intensifier tube and provide the best observation results.
The heavy-coated 90mm glass lenses allow for optimum clarity and distance, with the help of the infrared illuminator you can see through the darkness.
FEATURES
Powerful 5x magnification

High resolution 3rd Gen. Image Intensifier Tube

Multi-coated all-grass optics

Automatic ON/OFF proximity sensor

Long-range infrared illuminator

Easy to operate

Water resistance

Limited two-years warranty
SPECIFICATIONS

---

Model

---

Night Scout BNV3/5x with II Tube Gen. 3rd +

---

Magnification, x

---

5

---

Field of view, deg

---

20°

---

Lens system

---

86mmF/1.2

---

Interpupillary

distance, mm

---

57-72

---

Focus range, m/in

---

8.0 / 8.8" to infinity

---

Eye relief distance, mm

---

15

---

Diopter setting, D

---

+5…-5

---

Overall dimensions,

mm/in

---

225x150x60

8.86" x 5.9"x 2.36"

---

Weight w/out headgear,

g/oz

---

1600/56.44

---

Power supply

---

2 CR123 batteries, 3V

---

Estimated battery life w/out

IR,73°F, hour

---

up to 20

---

GEN III / GEN II IMAGE INTENSIFIER TUBES

---

Classification

---

OMNI III, IV

---

Photocathode type

---

18mm GaAs

---

Photocathode sensitivity,

typical, pA/lm

---

3=1800

---

Resolution, typical,Ip/mm

---

64-72

---

Luminous gain,

typical, fl/fcd

---

45000-55000

---

Signal-to-noise ratio,

typical

---

23:1 or better

---

FOM, typical

---

1500-1800

---

Tube reliability standard,

hours

---

12000

---

Keep time, typical, year

---

15

---

Warranty, year

---

2

---

EFFECTIVE DISTANCE

---

Detection range, approx.,

m/yard -quarter

moon -cloud cover

---

up to 660/725

up to 550/605

---

Recognition range, approx.,

m/yard -quarter

moon -cloud cover

---

up to 580/635

up to 400/440

---

5mW IR illuminator, approx.,

m/yard

---

up to 50/55

---

ENVIRONMENTAL DATA

---

Operating temperature,

°C/°F

---

-40° to+50°

---

Storage temperature,

°C/°F

---

0° to +50°

---

Immersion, hour

---

2 meter for 1.0 (Optional)

---

Humidity, %

---

up to 98%

---