PRODUCT OVERVIEW
This is series scope can be equipped with different Magnification objective lens based on the same appearance.
Currently there are three models: CR540 can be used for 95,06 88 etc., guns with 4x objective lens,
CR760 can be used for 03,88, 89 etc. guns with 6x objective lens,
CR880 can be used for 85,88,89 etc., guns with 8x objective lens.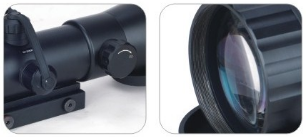 FEATURES
Integration fixture can be applied to many common guns

Different magnification objective lens work for short and long-distance shooting

Dot-cross and crossbow reticle

SF Objective lens

Adjustable illumination reticle.

Shockproof, can be used for strong recoil gun

(INCL.375 H&H, 416 RIGBY, 50 CAL)

Design by Texas (US) night vision expert

High accuracy adjustment of reticle, 60 click each circle,

Easy to operation

Adjustable diopter ocular

Waterproof
SPECIFICATIONS

---

Model

---

CR760

---

Magnification, x

---

8

---

Field of view, deg

---

8°

---

Lens system

---

156mm F/1.6

---

Focus range, m

---

10 m to infinity

---

Eye relief distance, mm

---

45

---

Diopter setting, D

---

+3,-4

---

Overall dimensions, mm

---

295x216x216

---

Weight w/out headgear, g/oz

---

1350/48

---

Power supply

---

1 CR123 batteries, 3V

---

Estimated battery life w/out IR,

73°F, hour

---

Up to 60

---