Main / Catalog / Night Vision Goggles / Night Vision Quad Goggles EFG-18N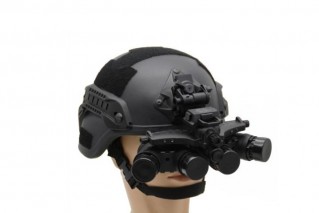 Description
With the new technology, developed a new Ground Panoramic Night Vision Goggles which called EFG-18N, The purpose of the EFG-18N is to provide the operator more information under goggles, allowing him to more quickly move through the OODA Loop (Observe, Orient, Decide, Act).
The most striking feature of the EFG-18N is the presence of four separate image intensifier tubes with four separate objective lenses arrayed in a panoramic orientation. The center two lenses point forward like traditional dual-tube goggles, giving the operator more depth perception, while two more tubes point slightly outward from the center to increase peripheral view.
The two tubes on the right and the two on the left are spliced at the eyepieces. The operator sees the two center tubes somewhat overlapping the two outer tubes to produce an unprecedented 120° FOV. This is an absolute game-changer for the SOF community.
The two right and two left tubes are housed in merged assemblies and are hung from a bridge, giving operators interpupillary adjustment options. They can also be easily removed and operated as independent handheld viewers. The IPD of the two system can be adjusted on the helmet mount.
The EFG-18N is not only powered by a battery on the device, but also by a remote battery packs, tethered to the unit via a standard DC cable. It comes with a pack that accepts four 3-Volt CR123A batteries that tend to power the unit for 50-80 hours (IR off). The remote battery pack provides a secondary function as a counterweight, which is needed considering the goggle weighs about 880g..
Standard set
Night Vision Goggles

Head strap mount

Carrying Case or hard case (optional)

Shoulder strap

Manual

Lens cleaning
Specifications:
---
Model

EFG-18N

Structural mode

helmeted turnover four-eyed NVG

Battery type

Lithium battery (cr123Ax1) / cr123Ax4 external battery pack

Power supply

2.6-4.2V

Installation

Head mounted(standard American helmet interface)

Control mode

ON/IR/AUTO

Over power consumption

<0.2W

Battery capacity

800-3200maH

Battery life

30-80H

Magnification

1x

FOV(°)

120x50 +/-2 °

Horizontal 120+/-2 °

Vertical 50 +/-2 °

Parallelism of optical axis

<0.1°

IIT

Gen2+ / gen 3

GAIn

Auto

Lens system

F1.18 22.5mm

MTF

120LP/mm

Optical distortion

3% Max

Relative Illumination

>75%

Coating

Multilayer broadband coating

Focus range

250mm-∞

Focus mode

Manual focus facility

eye relief

30mm

Pupil diameter

8mm

Visibility range

-1(+0.5~-2.5)

IPD adjust type

Arbitrary continuously adjustable

IPD adjust range

50-85mm

IPD lock type

Manual lock

IR

850nm 20mW

Working temperature range

-40--+55℃

Humidity range

5%-95%

Waterproof

IP65/IP67

Dimensions

155x136x83mm

Weight

880G(without battery)
Padded Helmets (EF-PHS8)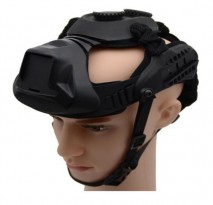 Product description:
EF-PHS8 is refer to the soft helmet based on American active duty military,on the basis of the head shape features with Oriental upgrade design use Oriental professional soft helmets.After redesigning products with independent intellectual property rights, have patent protection.
This special soft helmet is wearing comfortable,convenient adjustment,the function is all ready, durability and other characteristics, its interfaces and functions are interchangeable with general bulletproof helmets, especially suitable for special operations forces wearing equiEFent needs.
Technical specifications:
| | | | |
| --- | --- | --- | --- |
| No. | ITEM | SPECIFICATRIONS | REMARKS |
| 1 | Mountting Lock | Universal dismantled structure | Same as Bullet proof helmet |
| 2 | Dovetail groove | Universal 21mm | Each piece of both sides |
| 3 | Back Pasting pylon | Universal Self adhesion | Self adhesive tape |
| 4 | Multi-function Back Fixed hole | 3xM3 | Suitable for screw fixation |
| 5 | Head WiEFh adjustment | 0-25mm Symmetrically | Self-lock adj. knob |
| 6 | Head length adjustment | 0-35mm backward | Self-lock adj. knob |
| 7 | Head size adjustment | 0-65mm Symmetrically | Self-lock adj. knob |
| 8 | Strap length adjustment | 0-65mm 4ports | Self-lock Clasp |
| 9 | Dimensions | 235x190x150mm(no package) | 250x210x170(Minimum package) |
| 10 | Weight | 440g (no package) | 500g (Minimum package) |
NOTE:
1 .This product is made of high strength engineering plastic and comfortable environmental protection high-tech fabrics refined but become, normal working temperature of 40 ~ + 80 degrees Celsius, please do not use in an unsuitable temperature environment, in order to avoid product damage.
2.The regulation function of this product has a certain regulation range. Do not force regulation, so as not to exceed the regulation range and cause damage to the product..
3.. The mechanical strength of this product can ensure normal operation, but the mechanical strength is limited, do not use improper pulling, bending and extrusion in the operation process to avoid permanent damage to the product.
4. This product is in use process, don't disassemble and repair this product during use or when it is damaged by improper us, please directly contact with dealers.