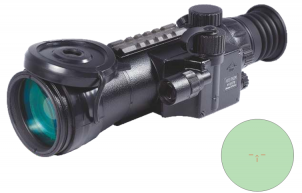 Product description:
The sight is designed as a module with the bracket attachedto the sight's body for mounting on almost any weapon seatincluding standard prism SP.
PN19K-3 is equipped with 3x objective lenses with innerfocusing, build-in IR illuminator and reticle brightnesscontrol.
The sight is shockproof when operates with all mediumcalibers including popular .30-06 (7.62x63).
FEATURES
Image intensifier tube of generation 2 +/3

Objective lenses Inner focusing from 4 m

Resistant dustproof and waterproof aluminum body

High-precision adjustment mechanism

IR illuminator

Reticle brightness control

Automatic IIT brightness control

IIT protection from short flashing lights