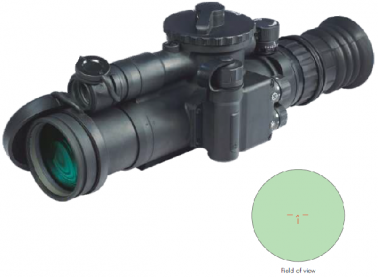 Product description
The sight is intended for terrain observation, target recognition and aimed firing from small arms under natural illumination in complete darkness and in the daytime.
PN22K has 2 parallel channels: night and daylight, switching the channels is performed by turning the handweel. When the daylight channel is switched on, the night channel
is switched off automatically. The sight is resistant to shock load of 5.6x39, 7.62x39, 7.62x54R, .223Rem., .308Win.,
.30-06 calibers. The sight is designed as an optical module and removable brackets allowing the sight to be mounted on different types of weapon.
When the night channel is switched on the daylight channel operates as an IR illuminator for observation, and aimed firing under reduced illumination and in complete darkness.
Every sight passes cycle of tests proving its tactical, strength and climatic qualities.
FEATURES
Resistant dustproof and waterproof aluminum body Permanence of aiming line while switching from daylight channel to night channel

IIT of generation 2 +/3

High-precision adjustment mechanism Reticle brightness control

Independence from external illumination IIT automatic brightness control

IIT protection from short flashing lights