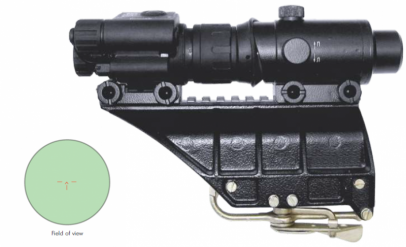 Product description
PDN3 is intended for aimed firing under both daylight and night conditions from rifle. The sighting complex is designed as 1x wide-angle sight PO1x20 PM and night vision monocular PN21KT mounted on Picatinny rail.
The sighting complex components match pairs to align optical axes so Installation of night vision monocular in front of the sight doesn't shift the aiming line. The sight can be mounted on standard Picatinny rail.
Complex recognition range under night conditions is 180 m and stipulated by PN21KT parameters.
FEATURES
For side rail

For mounting on Picatinny rail

Quick mounting and removal of night monocular

When removed monocular operates as night vision device