Main / Catalog / Night IR illuminators / High Power IR LD illuminator IR-1000-810 500mW (12V)
The IR-530-1000-810 is a powerful infrared illuminator designed to be used with CCD cameras and night vision devices for long-range operation at night. Specially designed lens system with raster of micro lenses gives round and uniform spot and allows illuminating objects on distances up to 2000 meters (depends on sensor) in total darkness.
Divergence of the beam can be adjusted from 1 deg. to 5 deg. Output power of laser radiation is adjusted by the switch. Power supply works from DC 12 V.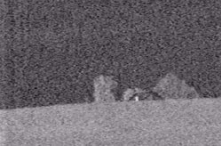 IR-530-1000-810-0.5 mW

IR-530-1000-810-0.25W
Laser class
IIIb
Radiation wavelength
810+/-5 nm
Output power, max
500 mW (controlled)

250 mW (controlled)
Max. range of operation
2000 m

1500 m
Divergence of radiation
1 deg. to 10 deg.
Power supply
DC 12 V, 500mA
DC 12 V, 0.25A
Overall dimensions (LXD)
150mmX 51mm
Weight
0.4kg
Temperatures range
-10 deg.CБ─╕ 40 deg.C
CAUTION! Prevent from lighting with IR laser illuminator a human face closer than 150 meters away.